Healthy Holiday Indulgence is not an Oxymoron! 
Thanksgiving kicks off a holiday season of many potential indulgences. When we've eaten a healthy diet throughout the year, sometimes during this time, we eat foods we'd never eat the rest of the year – namely, refined sugars, refined carbs, white stuff of all kinds, and bad fats.
Along the way, we succumb to the latest cold going around the office, put on more pounds than we would like, eat more than we think we should, or eat many foods outside of our normal diet. After all, when Aunt Sophie's wheat bread stuffing and your BFF's sugary pumpkin pie seem to present themselves only once a year, we want to make the most of them!
Actually, you can end the season without a cold, without those extra pounds, and feel as if you've indulged as well. Here's how.
 Tip #1:  REMEMBER THE 80/20 RULE AND CUT YOURSELF A LITTLE SLACK.
If 80% of the time, you eat in a way that you enjoy and you know supports your optimal, sustainable health, allow yourself to indulge the other 20%. And if you can – without sacrifice, without food addictions kicking back in, and with positive motivation from how good you feel – boost that ratio to 90%/10%, congratulations!  You may even live to 104!
Tip #2: EAT AS MANY WHOLE FOODS AS YOU CAN.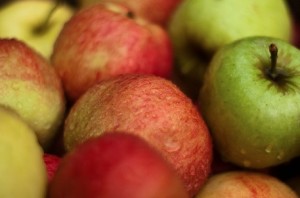 Eat foods in as close to their natural state as possible. You'll get the most nutrients and eliminate added sugars, salt, bad oils and food additives. An apple is a whole food. A butternut squash is a whole food even though you cook it to eat it. Applesauce from the jar is not a whole food, nor is store-bought pumpkin pie. How long is that ingredient list? What's its shelf life? The longer the ingredient list and longer the shelf life, the more processed the product is. Avoid those. Holiday meals can contain mostly whole foods, especially if you cook them yourself or with family and friends.
TIP #3: DON'T RUSH. USE THE HOLIDAYS TO TAKE A LITTLE EXTRA TIME PREPARING AND SHARING WHOLESOME, HOME-COOKED MEALS.
Cooking brings people together. There's no better way to connect with people you haven't seen for a while, or enjoy the people you see all the time, then to spend some time in the kitchen. Not only are relationships nurtured, but your bodies are as well. You know exactly what organic ingredients you're putting into that stuffing, that soup, that salad, that pie. How about some walnut-pecan brownies with fair-trade, raw cacao powder, sweetened with dates? Raw cacao has magnesium, antioxidants, and stimulates the same parts of our brain as when we're excited, happy, or sexually aroused. Now that I have your attention – Put on some great music and have some fun!
TIP #4: EAT ORGANICALLY GROWN, NON-GMO FOODS WHENEVER POSSIBLE.
Look for the USDA Organic and Non-GMO Project Verified labels.  In some circles, the verdict is still out on the hazards of eating GMO's. In other circles, the verdict is in – GMO's are bad for the planet and bad for our health. And Environmental Working Group can inform you about the produce to always eat organically – or subject yourself and your families to extreme chemical hazards.
TIP #5: PREPARE FOR LONG HOLIDAY TRIPS AND BUY ORGANIC FRUITS, VEGGIES, NUTS & SEEDS THAT TRAVEL WELL.
Avoid the temptation of potato chips, fast foods, and other truck-stop, strip mall temptations by bringing your own delicious snacks. Apples, pears, even some persimmons travel well. Buy a variety of nuts and seeds, some goji berries, huckleberries, or raisins, and make your own trail mix.  Cut up some carrots and cucumbers and bring along some hummus.  Stuff celery sticks with some yummy peanut or almond butter. Forget the Cinnabons and Mickey D's!
TIP #6: KEEP MOVING IN EASY, NATURAL AND FUN WAYS!
When doing holiday shopping, park as far away from the store as possible to add some steps to your day. Rather than buying a present for someone, give them the gift of taking them on a hike to a new place, or a great bike ride, or a winter snow shoe adventure.  When given the choice between stairs or elevator, take the stairs – and take them two at a time! If you do that every time you see stairs, you'll be amazed at how easy it becomes in no time.  Burn those extra bites of stuffing!
TIP #7: BE ADVENTURSOME! BROADEN YOUR BEVERAGE HORIZON!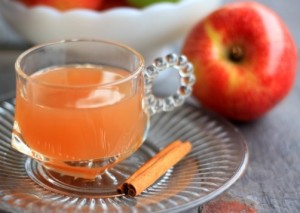 Okay – so some red wine, champagne or organic egg nog might tickle your holiday spirit. But what if you don't want to drink alcohol? And what do you give your kids to drink that will be festive?  Try your hand at making organic, homemade apple cider. All you need is a juicer, food processor, or a blender. To separate he juice form the skins, use a cheesecloth or fine sieve. Forget the sugar. Just add some blood-sugar-stabilizing cinnamon and cloves, heat it up slightly, and your home will smell like the holidays. Let your kids join in the fun. Or, how about some homemade ginger beer, root beer, holiday green tea with cinnamon, cloves and nutmeg?
 TIP #8:  WILDLY CELEBRATE!!!  FEEL YOUR GRATITUDE!!!
Fully partake in the fun of the holidays! Be creative! Make gifts! Hand-write cards and letters to loved ones. If you live in the city, take your kids to a local farm or small dairy so they can see where their food comes from. Step outside your comfort zone! Enjoy the satisfaction of knowing you can wildly celebrate while deeply nourishing yourself and your loved ones. Allow yourself to discover a deeper sense of appreciation and gratitude for all the great-tasting, whole foods the earth provides.
And with each bite, you may discover a greater connectedness to all life. And, after all, isn't that what the holidays are all about?
Comment